Getting the job done has never been easier than it is with Ford. Ford offers preferred pricing with the X-plan, a partner recognition vehicle purchase plan.
X-Plan Program Details
All eligible X-plan customers will reap the benefits of this vehicle purchase plan, which include the ability to buy a brand new Ford or Lincoln model at 4% above A-Plan (active employee) price. The program period is from January 1 to December 31.

X-Plan Pricing Vehicles
X-Plan Pricing offers a wide selection of current model years and new prior model year vehicles. These vehicles include cars and most trucks, including the Ford F-350, equipped with regular normal optional equipment. New prior model years have some restrictions. For instance, new prior model year vehicles must be purchased or leased before March 31st of the current model year. If it is purchased after this date, it is considered ineligible.
Ineligible X-Plan Pricing vehicles include daily rental units, used vehicles such as off-lease vehicles, CAP units not purchased directly from a Ford of Canada dealership, and driver training vehicles.
X-Plan Pricing Eligibility
To be eligible for Ford's X-Plan Pricing, one must be an employee of one of Ford of Canada's fleet accounts. These fleet accounts use Ford of Canada vehicles for their fleet already.
More specifically, to be eligible for X-Plan Pricing the customer must be a resident of Canada and show proof of employment with a qualifying X-Plan company or fleet account. Alternatively, the customer could show evidence of retiree status with an eligible X-Plan Supplier Partner company. Or the customer must be sponsored by an eligible Ford of Canada employee or retiree.
The customer must show proof of membership in a qualified X-Plan organization and have an X-Plan PIN and be eligible for X-Plan benefits at the time of delivery. The vehicle must not be registered in the name of business, and any leased vehicles have to be under the Ford Credit Red Carpet Lease program.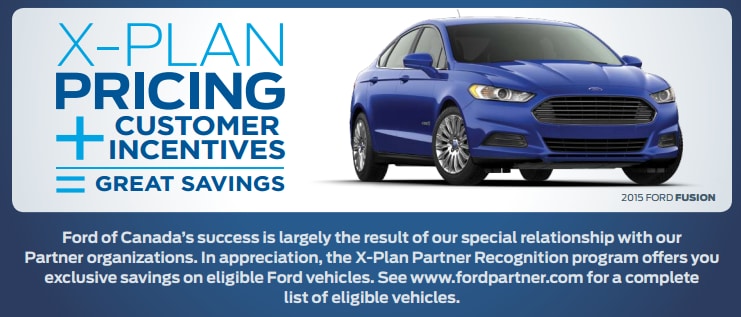 X-Plan Pricing Program Rules
For eligible customers, there are some program rules to oblige by. The rules in the Ford of Canada Contests and Incentives Standard Programs Reference Guide apply. Eligible customers who wish to lease their new vehicle must sign for the Red Carpet Lease contract. X-Plan Pricing may not be used in transactions where the vehicle is being leased through a financial institution, dealer-owned, or independently owned leasing company. The X-Plan Pricing benefits listed above may be used in conjunction with current retail incentives. However, X-Plan pricing may not be combined with any other restricted offers. As well, there is a limit of two vehicles per customer household, per calendar year.
How To Enroll for X-Plan Pricing
To enroll in the X-Plan Pricing program, the eligible customer must obtain the organized Partner Recognition/Supplier Code from their employer. Next, the customer must log-on to www.fordpartner.com or call 1-800-248-6674 to receive their PIN. At this time, the customer will be asked to provide their Partner Recognition Code, name, address and last 4 digits of their Social Insurance Number.
Once this is complete, the customer must visit a participating dealer and identify themselves as an X-Plan participant. Once the eligible customer has presented the last 4 digits of their Social Insurance Number and PIN, they may select a new vehicle.
As soon as the qualified customer has selected their new vehicle, they need to provide proof of employment at an eligible Ford Partner. This can be done with a pay stub or official company identification. The final step is to finalize the purchase or lease and arrange delivery.
To learn more about X-Plan Pricing, Red Carpet Leasing and more, visit Your Authorized X-Plan Pricing Dealership - Legacy Ford Fernie. Legacy Ford Fernie offers the latest from Ford of Canada, including available X-Plan Pricing models. Formerly known as Fernie Ford, we now  operate under the name Legacy Ford Fernie and continue to proudly serve the communities of Fernie, Cranbrook, Elkford, Creston, Golden, Sparwood, Jaffray, Elko, Crowsnest Pass, Pincher Creek, Fort MacLeod.
---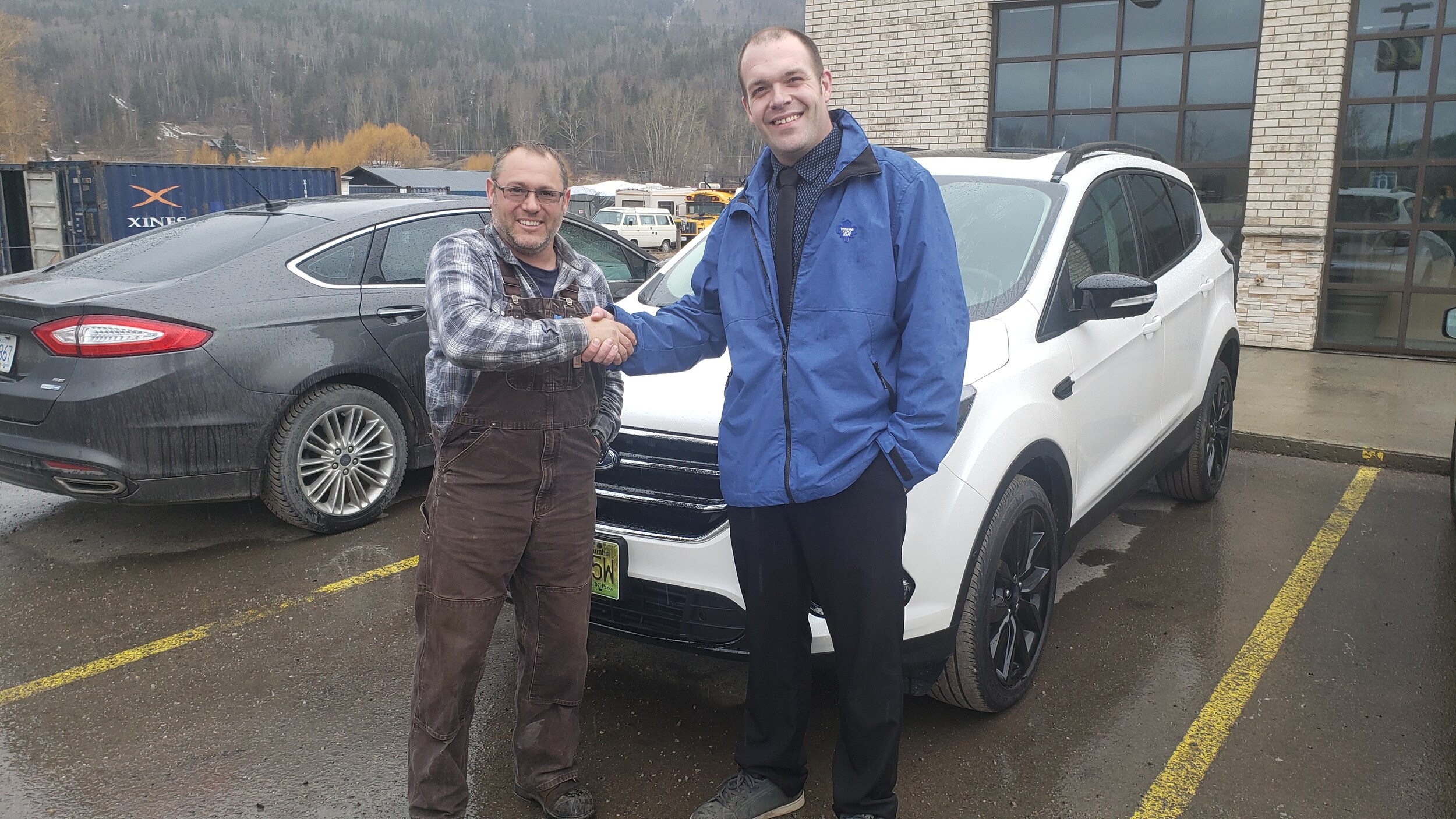 Stuart is a CP Rail employee from Jaffray, BC. He has quite the daily commute. He wanted something fuel efficient and nicely equipped. After driving a couple of different vehicles, he chose the 2018 Escape Titanium with the 2.0L Ecoboost. It has the fuel efficiency that he was looking for plus the power to climb over the mountain passes with ease. 

Ford X-Plan Pricing combined with rebates made it even easier for Stuart to take home his perfect vehicle. 
---